(Valentine's Day is coming soon) LOCK IN LOVE COUPLE SET
Regular price
$24.97
Sale price
$59.94
Unit price
per
The Lock in Love Bracelet and Necklace Set is the ultimate "I Love You" gift!
Show your special someone just how much you love them with the Lock in Love  Necklace & Bracelet Set. This beautiful matching set will serve as the key to your heart and a constant reminder of your love. The test of time will take a toll on everything except for the significant message of commitment conveyed by this beautiful matching set. Symbolizing everlasting love, this is a special way of reminding someone that you will love them forever and always. Give your partner either the key necklace or the matching lock bracelet so you can both wear a piece of the matching set that only unlocks when both people come together. The absolute perfect gift for couples for an anniversary, holiday, birthday, or any occasion that deserves such a meaningful gift!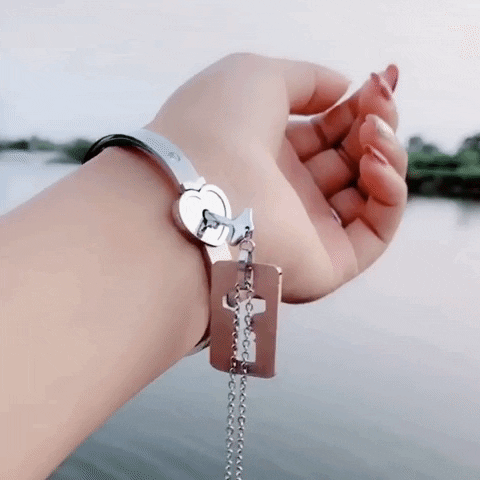 The bracelet and necklace are made of high-quality titanium stainless steel. They are durable enough for daily wear and require very little maintenance. The key is made to fit perfectly into the heart-lock.
The necklace chain length is 19.68"/50cm and the bracelet circumference is 6.69"/17cm. One size fits all. for women and men! 
COUPLES BRACELET DETAILS: 
This bracelet is a true promise of real love. Why? Because once you put this bracelet on, it won't come off until you unlock it with the necklace. The key in the necklace is what unlocks the heart in the bracelet. Just like you are the key to your lover's heart. 
This couple's bracelet and necklace represent a couples uniqueness and your eccentric fashion sense! 
Wearing this necklace and bracelet will help you, as a couple, to be the center of attention. People can't help but notice its unique design!
Material: Highly-Durable Stainless Steel
The best part of this couple's bracelet and necklace is that the heart and the key of the bracelet and the necklace respectively represent the promises you make in love. It also indicates that the only key to your lover's heart is you!
One size fits all!
Specification:
Metals Type: Stainless Steel

Jewelry Sets Type: Necklace/Bracelet

Included Additional Item Description: Bangles and necklace

Material: Stainless Steel and CZ Crystal

Weight: 32g

Pendant size: 17mm*27.5mm

The necklace chain length is 19.68"/50cm and the bracelet circumference is 6.69"/17cm. One size fits most women and men.
Package includes:

---